Whats the greatest goal you've seen scored for England ?
I'm going to have to go with Michael Owen's goal vs Argentina at the Fifa World Cup in France 98.
That pass by Beckham though.
Owen's finish put him on the world map as one of the brightest and best young talents in world football,  that goal was quite special.
Thats the greatest goal i've seen scored for England.   Whats the greatest you've seen ?
This is the goal i'm talking about
https://www.youtube.com/watch?v=I4qeDBad2Go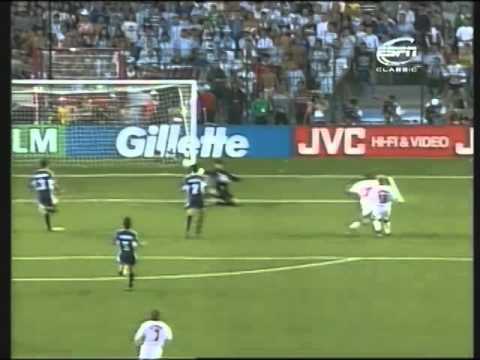 Update:
Adam I remember that goal well, that was quite something yeah.
Johnny Barnes mazey run v Brazil in the Maracana 1984.

Mentioning the Maracana reminds me of England's greatest debut.(by a striker)

Fred Pickering's hat-trick in the great stadium yeah they were playing USA(not sure why) in 1964. He was unlucky not to play in 66' got injured FA cup semi-final he was in Sir Alf's 40 man squad.

Anyway after retirement Fred left football and worked in the local paper mill in Blackburn on the shopfloor and before he died in 2019 aged 78 you would see him in the bookies putting 20p 'Lucky 15's' on. I mean come on but he still had that that aura about him. God Bless You Fred ''The Boomer''. Blackburn Rovers & Everton Legend.

I never saw him play just go off what my dad and uncles and older fans say.

I would probably agree about Owen. Beckham scored a great free kick against Colombia at that same tournament. I love Gazza's goal against Scotland at Euro 96. Also, John Barnes once scored a wonder goal against Brazil in Brazil in about 84 I think. 

     Jimmy Dickinson's own goal during the WC 1954.

Gazza or Becks.....    vs  Scotland and Greece, respectively, and good old Barnes third

i'm tempted to swing towards Beckham, because it was virtually the last kick of the  game  England were about to fail to qualify for a major tournament, and it was all up to Beckham from some 30 yards, it's what you call pressure!

What do you think of the answers? You can sign in to give your opinion on the answer.

I'll go with John Barnes v Brazil 1984 with Michael Owen v Argentina 1998 a close second.

I can only remember Diego Maradona's brace against a strong England team in Mexico 86. The English aren't famous for scoring memorable goals, are they?

Geoff Hurst in 66 for sure 

Beckham fk against Greece 2002

The greatest goals I've seen scored involving England have always been against them. Ronaldinho, Ibrahimovic, Maradona

Gazza V Scotland in Euro 96. The technique required to do what he did, phenomenal..
Still have questions? Get answers by asking now.